Happy Thanksgiving to our JCS community! We remain grateful for the privilege of serving your children.
Just before the break, students from Harpers Ferry, Shepherdstown, and Wildwood Middle Schools visited Jefferson High School, where they learned about CTE courses, CTSO clubs, and programs of study available as they enter high school. Special thanks to our high school student ambassadors for representing these programs for our rising freshmen!
Join us TONIGHT from 6-9 p.m. for the next STEAMTalks! In-person in the JHS cafeteria or on Zoom. Details and schedule below!
We want to give a huge shoutout to our substitute teachers and service personnel on Substitute Educators Day! These members of our JCS community play a crucial role in the continuity of daily education by stepping in at a moment's notice to provide school or district-wide coverage wherever it's most needed. They are talented and adaptable individuals who are relied upon by administrators, teachers, and students. We're so grateful to all our subs for their important contributions to our educational community. Thank you! Interested in subbing for JCS? Visit
www.jcswv.org/careers
to learn more and begin your application!
Congratulations to Ava Loring on being named a finalist in the United States Senate Youth Program! Join us in wishing Ava the best of luck today as she interviews for one of two West Virginia Delegate positions within the program.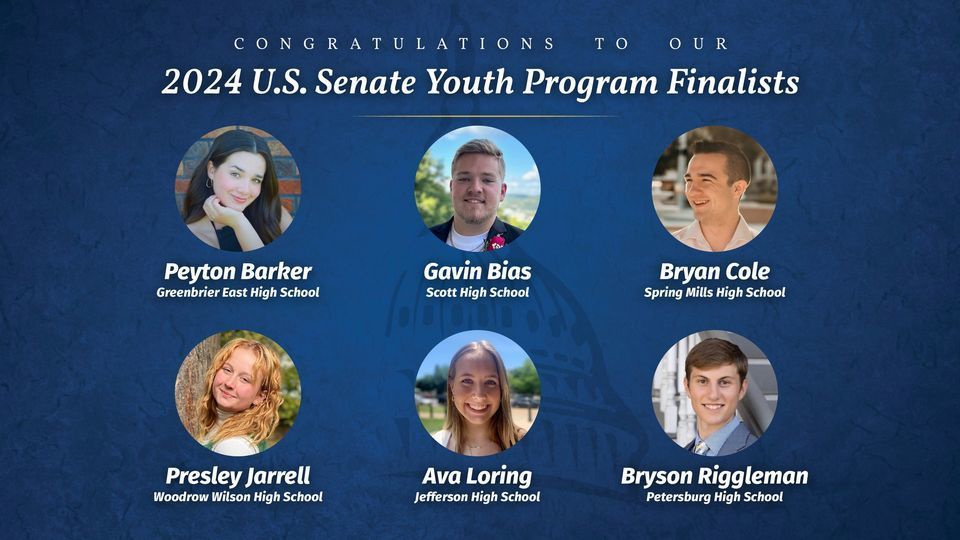 ATTENTION: We are experiencing difficulty receiving incoming phone calls at Jefferson High School today (11/16/23). The provider has been contacted so they can work on resolving the issue. We have activated our backup number to ensure you can contact the school by phone. Please call (304) 582-0137 to reach the front office today. Thank you.

American Education Week continues with a shoutout to our amazing team of service personnel! These folks hold a special place in our JCS community as they work to keep our students safe, healthy, and focused. We're grateful for the many different ways they support our students.
As we kick off American Education Week, we're excited to highlight and celebrate the incredible people in our JCS community who contribute to public education! Our staff, students, and families are the heart of our community, and we're grateful to each of you for your role in creating and maintaining a safe, enriching, and fun learning environment. Keep an eye out this week for #AEW2023 celebrations throughout our JCS community!
Today we take time to recognize Veterans Day with respect, honor, and gratitude to all who serve or have served in our nation's armed forces. Thank you!
A reminder that all Jefferson County schools and offices will be closed on Friday, November 10, in observance of Veterans Day.
Join us in cheering on JHS Resource Officer Lt. Ben Williams this month as he embraces the scruff for "No Shave for the Brave!" Jefferson County law enforcement officers participate in the annual fundraiser each November in support of Victoria's House CAC, a West Virginia-based program offering services to juveniles who have suffered abuse. To learn more, visit
http://rb.gy/oyzd9s
.
Congratulations to the Jefferson High School Cougars football team on their 48-0 win over Washington High in the first-ever Burger Bowl! And a big thank you to Glory Days in Ranson for feeding both teams and presenting the Burger Bowl trophy! The Cougars finished the season 8-2 and will host a playoff game on Nov. 10 at 7:30 p.m. against the Wheeling Park Patriots. Tickets are available here:
https://gofan.co/event/1217676
Come out and cheer on the Cougars as they take on Washington in the first-ever Burger Bowl, presented by Glory Days in Ranson. Glory Days will feed both teams before the game, provide water for players, and give the winning team a custom-made trophy. Every fan in attendance will receive a free raffle ticket for a $50 Glory Days Gift Card that will be drawn at the end of each quarter. Kickoff is at 7!
Congratulations to Aiden Farabaugh, Ava White, Catherine Pallay, Kaden Patterson, and Mexlty Lehr on being named finalists in the district-wide Attendance Matters Poster Contest! Contest winners will be announced on Monday, November 13, during the regular meeting of the Jefferson County Board of Education. Visit
http://rb.gy/7uqc7
to view all our student finalists!
Six students from Jefferson and Washington High Schools had the opportunity to observe JCS teachers in action as part of the second district cohort of the statewide Grow Your Own Program! Created by the West Virginia Department of Education for high school students interested in becoming K-12 educators, the program enables JCS juniors and seniors to fast-track their careers through dual enrollment courses at Shepherd University. Grow Your Own Shadow Day was a rewarding experience for our JCS students as they observed current teachers in preparation for their future careers! Read more here 👉
http://rb.gy/brn2q
JCS Superintendent Dr. Chuck Bishop took one for the team today at Jefferson High School's "Cougars Against Cancer" pep rally! Dr. Bishop, Principal Group, and other JHS staff members each took a pie to the face during one of several games at the school-wide event to support cancer awareness. With cancer affecting the lives of so many, students were encouraged to "pink out" in attire and complete a pink sign with the name of someone they support in the fight against cancer. Following the fun and games, the student body stood and raised their signs to show that Cougars stand together against cancer.
#TGIF! JCS students across the district celebrated Red Ribbon Week with fun themes and activities related to this year's theme, "Be Kind to Your Mind." From "decade day" to "super training" their brains with crazy hairstyles to simply wearing as much red as possible, students had a great time showing their school spirit during this annual celebration of health and wellness!
Parent Teacher Conferences Oct. 26, 2023 6pm-8pm
Thanks to everyone who came out to scare up some fun at our second annual Sensory Trunk-or-Treat! Our neurodiverse students and their families had a 👻spooktacular👻 time in this safe and inclusive trick-or-treating environment hosted by our Parent and Educator Resource Center (PERC). Special thanks to our student greeters and peer hosts, staff and community volunteers, and community partner agencies who helped facilitate the event. Read more here 👉
http://rb.gy/gpw57